Welcome To ROC & Upcoming Events
ROC Parent Handbook 2016-2017

Please click on the following link to download your copy of our Parent Handbook. It is a great source of information on what to expect as well as what is expected of you, as a parent of a ROC Competitive Swimmer!

ROC-Parent-Handbook-2016-2017
ROC Calendar for October – December 2017
Congratulations to ROC Master Swimmer Mike Patrick!
Mike became the first Canadian swimmer, ever, in the history of swimming in Canada, to go under 60 seconds for a 100m freestyle, as a 60 year old. First time…. ever.
Congratulations to Julia Soutter for her amazing swim at the 2016 Olympic trials on April 10th. Julia went in ranked 50th and came out 30th.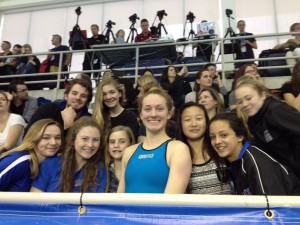 You ROC Julia! We're so proud of you!!
Congrats to the winners of our LCBO raffle
1st Prize – Adam Cole of Newcastle
2nd Prize – Ellen Schaffeler of Bowmaville
3rd Prize – Jim Read
Upcoming Events
Please note that there will not be any practices during the March break. Practice will resume on Monday, March 21st
Yuk Yuks will be held on Saturday, April 2nd
CONGRATULATIONS!!
To Head Coach Karen Hillis
for being inducted to the
Clarington Sports Hall of Fame 2015
ROC's own Aleena Luetchford swimming at the PanAm Games Trials April 1, 2015